Can the slab morphology control the volcanic evolution of and arc system?
---
10/16/2020
Southwest Japan is a volcanic island arc formed by subduction of the Philippine Sea (PHS) plate via the Nankai trench. The magmatism in this arc has been active during the last 12 Myr and has produced variable volcanic rocks distributed in the Kyushu and Chugoku districts.
To explain spatial and temporal variations in magma types (Figure 1), we proposed the model for the evolution of subducting PHS plate in the last 12 Myrs (Figure). In early stage (12–8 Ma), the PHS slab would have been located at a greater depth (>100 km), and thus the slab likely released fluids dominated by an aqueous component (Fig. a). Subsequently, as the boundary of PHS and PAC (Pacific Plate) migrated to the northeast, the PAC Plate sank into deep asthenosphere beneath the PHS, allowing injection of asthenosphere beneath the PHS plate. Consequently, the PHS plate would have been impinged by asthenospheric flow at its base, eventually leading to its flattening and melting (Fig. b). The reaction of slab-derived melt and peridotite within the wedge mantle also led to the production of high-Sr IAB and ADK magmas in late-stage volcanism (Fig. c). As recognized in the other arcs (Aleutians and Kamchatka), our study also demonstrates that the subducting slab and sub-arc mantle mutually interact and the feedback effect of this interaction plays a major role in the evolution of island-arc volcanism. If you want to know more about it, please read the full article!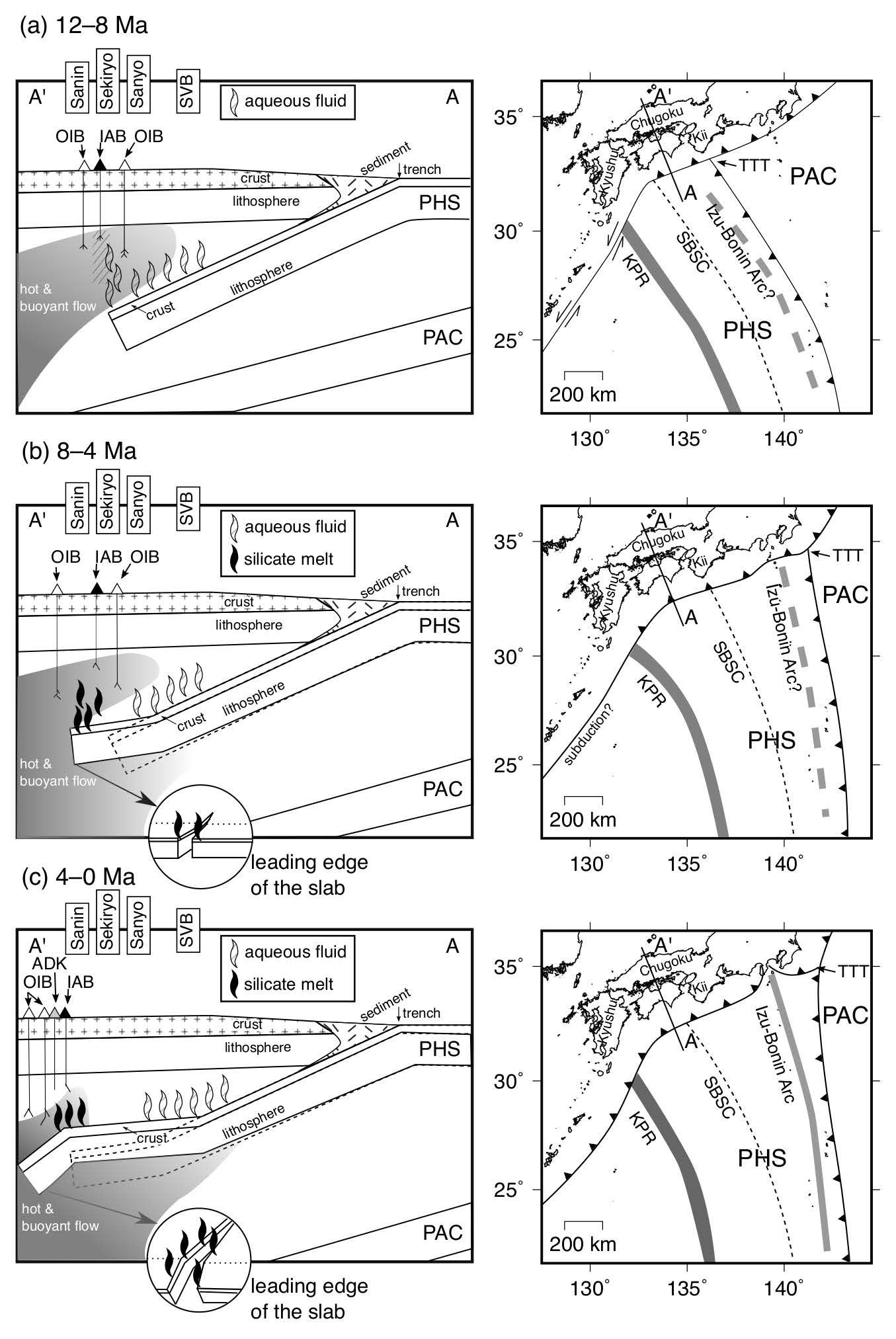 References:
Tai Truong Nguyen, Hiroshi Kitagawa, Ivan Pineda-Velasco, Eizo Nakamura. Feedback of slab distortion on volcanic arc evolution: geochemical perspective from late Cenozoic volcanism in SW Japan, Journal of Geophysical Research: Solid Earth, e2019JB019143 (2020). doi:10.1029/2019JB019143, dream/20201008025001-566757.